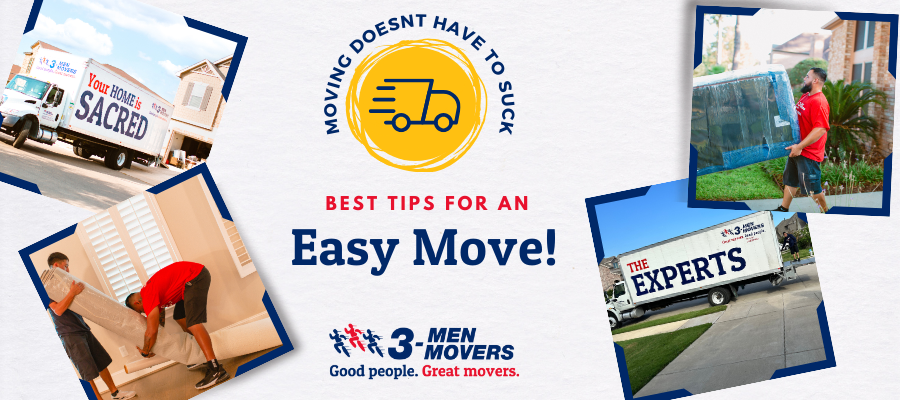 So, the time has come to embark on a journey to a new home, a new city, or perhaps even a new state. The mere thought of moving may be causing beads of sweat to form on your forehead, but fear not! With over 30 years of experience, your very own moving maestros here at 3 Men Movers are going to bring you the best tips in the business on how to turn your moving day into a piece of cake.


Purge Like You're on a Mission
Before you even think about bubble wrap and packing peanuts, channel your inner Marie Kondo and declutter like there's no tomorrow. Think of this as a golden opportunity to bid farewell to that collection of mismatched mugs or those jeans that haven't seen the light of day in a decade. If you haven't used it in over a year (we're looking at you, questionable beanbag chair from college) then consider donating, selling, or altogether tossing out the items that no longer serve a purpose in your life. Trust us; your future self will thank you for the streamlined move.

Pro tip: Find a charity service that offers pick-up! Here's a site to check out.


Pack Early, Pack Often
Picture this: it's the night before your big move day and you're surrounded by towers of boxes, each one demanding your attention. This chaotic scene is easily avoided by starting your packing process well in advance. The key to a smooth move is to start packing early! Don't underestimate the time it takes to bubble wrap your extensive collection of snow globes or to properly box up your vintage vinyl records. Begin with the items you use less frequently, leaving the essentials for last. Remember, Rome wasn't built in a day, and neither is a perfectly packed moving box.

Pro tip: keep boxes and packing material accessible in each room, so it's ready and you can pack as you go!
Organize and Label, Label, Label
Organize and Label: The Twin Pillars of Sanity. Organization is your best friend in the moving game. Label each box like your move depends on it—because it does! If you take the time to label each box with its contents and the room it belongs to WHILE you are packing, not only is the unpacking process a easier, but also helps your movers deliver each box precisely where it needs to be. No more dragging boxes from room-to-room in the days following your move-in. Unpacking doesn't have to become a treasure hunt, minus the pirate ship. And rum.

We love this labeling system!
Temporary Storage: Your Moving Safety Net
Feeling overwhelmed by the sheer volume of stuff in your life? Enter temporary or portable storage—a major moving life hack. This clever option provides you with the luxury of packing at your own pace, and then storing your stuff until you're ready to reunite with them in your new abode. Sound unnecessary? Well, picture the alternative. We've all been there: you're stressed to the max preparing for your move, and suddenly you find yourself drowning in a sea of boxes and clutter. Take a breather from the chaos and clear up the clutter by getting portable storage containers. Most portable storage services offer a pickup (some will even load it up for you!) Then they haul it to a climate-controlled storage facility where your belongings are safe and sound until you're ready to unpack them in your new space. It may just be the smartest moving hack. Ever.
Call in the Pros: Professional Packers
For those who break into a cold sweat at the thought of packing up everything they own, professional packers are your superheroes. Imagine a team of efficient packers descending upon your home like a well-oiled machine, swiftly and expertly packing up your belongings. It's like watching a symphony of cardboard and tape. Treat yourself to the stress-free luxury of letting the pros handle the packing, while you focus on the excitement of the move itself. Just sit back, relax, and let the pros do their thing.
The Right Movers Make All the Difference
The biggest thing that can make or break your move day? The movers themselves. Choosing the right moving company is like finding a needle in a haystack—daunting but oh-so-worth it. Ensure you're in good hands by opting for a reputable company that has been around a while, like 3 Men Movers, if you're in one of our service areas. Don't be afraid to do your research and ask around! It is worth the peace of mind to check reviews, get recommendations, and make sure they're licensed and insured. Your grandmother's china deserves nothing less!
Provisions for Little Ones (Both Human and Furry)
Moving day can resemble a controlled chaos of boxes, tape, and excited chatter. While you're busy coordinating the logistics, don't forget to make provisions for the little ones. Whether they have two legs or four, kids and pets may feel a bit bewildered amidst the hustle and bustle. Consider arranging for a sitter or enlisting the help of friends and family to keep an eye on them during the move. A stress-free move is a win for everyone!
In the grand scheme of things, moving is an adventure—an opportunity to start fresh and embrace the unknown. With a bit of planning, a dash of organization, and a sprinkle of professional assistance like the team from 3 Men Movers, your move can easily go from a terrible experience into a memorable journey. So, take a deep breath, put on your moving cap, and get ready to create a new chapter in the story of your life. Happy moving!