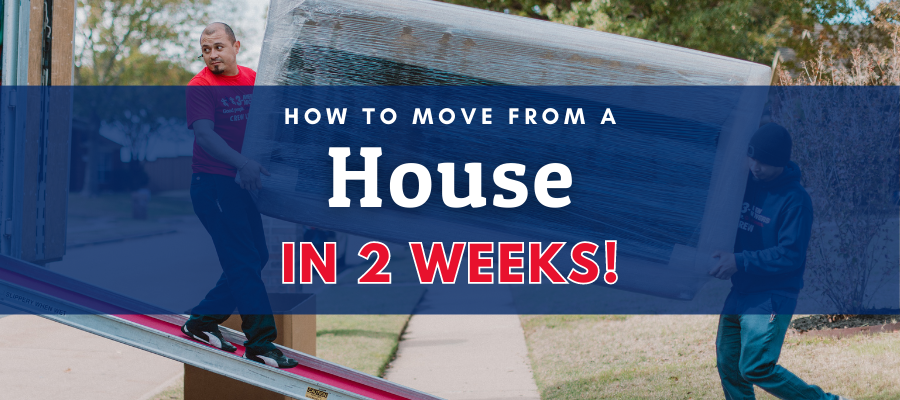 How to Move from a House in 2 Weeks
Let's be honest; moving is hardly anyone's idea of fun, especially when you're racing against the clock! But fear not, we're here to tell you that conquering a 2-week house move is entirely within your reach! Even with a seemingly overwhelming to-do list and limited time, we've got your back. We will reveal the secrets to setting yourself up for a seamless a moving experience as we guide you through a comprehensive plan, covering everything you need to do beforehand, during each week, and on the final moving day. Plus, we've thrown in a valuable free checklist and expert tips to make your journey a breeze! Say goodbye to moving anxiety, and let's get moving!
Begin Your Moving Prep as soon as possible
We've all been there. You thought you had more time. But two weeks will fly by, especially when you start thinking of everything you need to do, like:
Find a trustworthy

moving company

Donate or get rid of everythng you don't want to take with you. When in doubt, throw it out!

Packing

everything

you own (this includes getting the supplies, closing/taping and labeling boxes)

Handle other moving-related errands (like changing your address, vehicle, or voter registration, setting up new utilities, etc)

And, of course, the actual move day!
Not to mention unpacking and setting up your new place, or shopping around for anything you need to get settled. Remember, you're also competing with hundreds of other people who need to move due to expiring leases! So, if you've done absolutely none of the above, take a deep breath, read on, and download the FREE two-week moving checklist below.
Download Your Free 2-Week Moving Checklist
Whether you're moving from a house or apartment, this free, 3-page guide will help you prepare in under two weeks. Grab the freebie below!
Download Two-Week Moving Checklist
Read our article on How to Prepare to Move In 2 Weeks
How to Prepare to Move From a House in 2 Weeks:
If you're moving from a house, you do have more flexibility as far as time and parking availability. But there are still some ways you can specifically prepare if you're two weeks away from moving and not ready.
As soon as you know you're moving out of a house:
Start packing right away. You might have fewer time constraints than an apartment-dweller, but none of that matters if you're not packed before move day. Start cleaning and clearing out old junk, too. You'll likely have more unwanted stuff if you live in a house rather than an apartment.

Talk to your neighbors. Communicate with your neighbors in advance so there will be a spot for your movers' truck. You don't want your movers to have to compete with other contractors or personal vehicles if your neighbors are using services or hosting gatherings on the same day. Your move will definitely take longer if crew members have to walk from down the street to move items out of your home.

Book your move at the appropriate time. While you don't have to worry about handing over the keys to a leasing agent right away, you still should be considerate. So when you're scheduling your move, keep in mind any conflicting information you uncovered while speaking with neighbors.
7-10 days before moving from a house:
Get repairs and contracting services done. If you're renting, ask your landlord about repairs.

Thoroughly label and number your boxes. As listed under the General tips, you should already have gotten moving boxes and supplies and started packing. Besides simply writing 'fragile' on your boxes, number them to match the rooms they will go into at the new place. (More on that below).
5-10 days before moving out of a house:
Schedule contractors to dismantle any special or expensive items. Certain furniture and equipment must be dismantled before moving (like grandfather clocks, light fixtures, Peloton bikes, gun safes that are bolted into the floor or need doors removed).

Get the proper equipment, casing, boxes, wraps, etc. for any instruments, jewelry, ammunition).
1-2 days before your move from a house:
Communicate any obstacles getting to your home. When your moving company opens, give them a call to let them know if there's anything out of the ordinary. Is your street clear? Are your neighbors doing construction or expecting lots of cars on the street? Will there be any hills that movers have to traverse while hauling your stuff to the truck? What about low-hanging trees or cables?

Assist with a virtual walkthrough. Send your moving company photos of how much stuff you need to move. A simple cell phone photo of each room will do, but remember to snap your closets, cabinets, dressers with clothing, and outdoor furniture. Knowing how much and what you have to move will help the moving company send you the right crew and inform you of any fee changes. No one likes surprise charges after moving!

Check on any storage facility restrictions. On move day, the clock will be ticking and most movers charge hourly. So waiting on any mishaps at a storage facility could end up being expensive. If you're moving things into or out of storage, make sure a facility manager is there in case you have issues. It's also vital to know whether the storage company restricts moves after a certain time.

Do your laundry. This goes without saying, but

no one

wants to transport dirty clothing. Plus, you may be able to use clean linens to help you pack delicate items

Set up utilities in your new space. Set up or transfer your cable, internet, water, gas, and electricity before your move. In some areas of Texas, like DFW and Houston, you can

choose your electricity provider

and shop for the cheapest electricity rate.

Clean & disconnect appliances. Any appliances like washers, dryers, and refrigerators should be disconnected

at least

24 hours in advance of your move. Some movers will assist you with this, but many others won't (movers generally aren't trained to do that kind of thing). Moving companies will often ask you to waive liability so they aren't responsible if anything goes wrong. If you need help with disconnecting and reconnecting a washer or dryer, ask your chosen moving company during booking.

MASTER TIP: For dryers, make sure the vent is thoroughly cleaned before installing it in your new home.
The same day you're moving out of your home:
Charge your cell phone. Before—or even during—your move, the moving company or crew may need to get in touch with you. Keep your cell phone on you and charged at all times so you and your movers don't miss any important news. Don't forget to turn up your ringer volume!

Prepare everything you need to use that day. If there are things you know you'll need (like snacks, medications, or your toothbrush) keep them separate in a backpack or tote bag.

Do a walkthrough before & after moving furniture. It seems repetitive, but we can't stress this enough: open every closet, cabinet, and drawer

before

your movers start and

after

everything is moved out. Before you head off to your destination, don't forget to do one final walkthrough with your movers to ensure nothing's left behind. It's also crucial to clear out any drawers with clothing or drawers before dressers get lifted and shifted on a dolly, so items and inner parts don't rip or break. Make sure the movers do a final check of the truck after you move into the new space.

Label the doors of each room to match your boxes. Using a sticky note, copy the numbers you put on the boxes to denote where each box will go at your new place. This will prevent movers from constantly having to ask where you want every box placed, and will generally speed up your move.
*Special Note on When to Pack a House:
We typically recommend that you start packing a house one month in advance. But if you have a house to pack and haven't done anything at all, start now! How much time you dedicate to packing and how much you have to pack are huge factors in how long your move takes. Will you spend 8 hours a day packing over the course of one or two weekends? Do you work such long hours that packing by yourself for 12 hours isn't possible?
If either of these scenarios describe your situation, we recommend either packing anywhere from 30 to 60 days in advance. Depending on how much time you're able to dedicate to finding the supplies and packing everything yourself, you should consider hiring professional packers to ease the workload.
More on what to expect from packers, here.
Wrapping Up
If you're worried about having a last-minute move and have only two weeks to plan—relax. The best thing you can do now is to pack, purge, and find a mover. Follow this guide to moving from your house in 2 weeks and we guarantee you will be ready in no time!
Related Tips