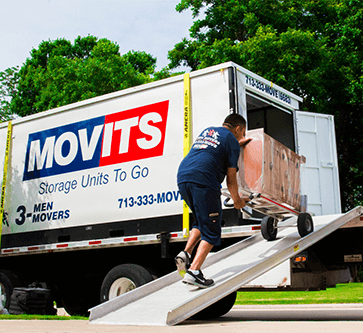 Most people have heard of PODS, but did you know that 3 Men Movers offers even larger, portable storage containers called MOVITS? MOVITS are great for short term storage if you're in the middle of a house renovation, in that weird in-between place of buying and selling homes, or for long-term storage if you just need to clear up some space.
Below We Answer the Who, What, Where, Why, When and How About Our Movits Containers.
Spoiler alert: the biggest benefit of MOVITS portable storage is getting movers and storage in one service instead of hiring two separate companies. Let's break it down:
Who Is It For?
Anyone needing a place to store their stuff for a few days, a week, a month, up to an unlimited amount of time.
What Is It?
Our portable, secure, rectangular storage containers with locking capability. They are 20ft x 8ft x 8ft (which is 25% more cubic feet than a POD). This is approximately enough space for a 2 bedroom home – check out our How Much You Can Fit In A MOVITS Container blog for more information.
Where Is It Stored?
In our Houston and San Antonio climate controlled MOVITS warehouses. We take care of the storage part, so you aren't scrambling to find a place to put it. We load it, lock it, and transport it straight to our storage facility from your home or location. You keep the key so you can rest assured that your MOVITS is safely locked inside our locked, gated, and climate-controlled warehouse. If you need access to your unit, just give us 24-hours notice.
Why Should I Consider It?
1. We're only moving your things twice with MOVITS containers (once into the container and once out of the container as opposed to a traditional self-storage facility that involves moving your items on and off a truck 4 times. Bottom line: the less your belongings are loaded and unloaded, the safer they are.)
2. We bring all of the necessary moving supplies to wrap your items to prevent damage.
3. We do all the heavy lifting.
4. You'll never have to go to the storage facility (unless you want to!). We come to you to load up your things and bring them back to you to unload them when you're ready.
5. We store it at our facility for as long as you need.
6. No locked in contracts.
7. Use one company for moving and storage instead of two.
When Can I Get One?
Year-round, and in most cases, we can even get one assigned to you on the same day.
How Does the Process Work?
1. Give us a call and we will get a MOVITS crew assigned to you.
2. We travel to you and wrap, lift, and load. Our crews are specially trained and experienced in packing and loading your stuff with the utmost precision and care.
3. We will keep it at our storage facility as long as you want. Charges are on a month to month basis.
4. Last but not least, let us know when you are ready to get your things back and we'll have it delivered and unloaded for you by the same or next day.
So whether you are planning to move in Houston or San Antonio, or just need to clear some stuff out for safe keeping for awhile, we are happy to help! And true to 3 Men Movers style, we'll make it easy for you.
Want more information? Call us today or get a free portable storage estimate.