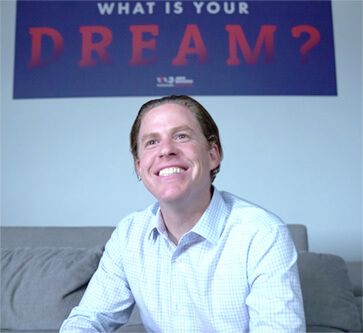 If you've been looking for a job, you've probably heard all about the usual perks many employers offer. They might range from health insurance and retirement plans to free food and ping pong tables in the break room. But have you heard of a dream manager? Yeah, that's probably a new one, and yet 3 Men Movers is proud to offer this resource to our employees. So what exactly does a dream manager do, and why do you need one in your life? Here's everything you need to know about dream managers.
Why Did We Add a Dream Manager to Our Team?
If you've never heard of a dream manager, you're not alone. We first learned about this resource when we read The Dream Manager by Matthew Kelly, which is a book that describes how discovering what motivates employees — and helping them reach their goals — is the key to better employee engagement and satisfaction overall. Since the happiness of our employees is of utmost importance to us, we figured it couldn't hurt to hire a dream manager of our own.
So, meet Grant, the dream manager here at 3 Men Movers! His background is in talent development and financial planning, and he uses both to help the 3 Men Movers family reach our goals — whether personal or professional. Since he joined our team, we've all been more focused than ever on doing what it takes to achieve our dreams, both inside and outside of work. If that's something that interests you, you'll appreciate having access to our dream manager when you work at 3 Men Movers.
What Does a Dream Manager Do?
If you're wondering how the whole dream management process works, here's the short version. Basically, a dream manager is a helpful hybrid between a financial advisor and a life coach. Grant can assist you as you strive to improve financially, personally, professionally and in various other ways.
Whether your dream is big or small, he can help you put one foot in front of the other on your way to achieving it. All the while, we at 3 Men Movers know that for some crew members, their dreams might even take them outside the company, and it's okay if that happens. Our dream manager focuses on each person individually, so he's prepared to help you meet your objectives both inside and outside of the workplace.
What Can You Expect From a Dream Manager?
Grant sets up monthly meetings with our crew members, and that's when he goes over the progress on the custom strategy he set up at the first meeting. So if your goal is to pay down debt, Grant will help you look at budgeting, cutting unnecessary expenses and finding new strategies to save. So it's no wonder that in just one month, Grant has helped one 3 Men Movers employee pay $3,000 toward debt repayment, while another was able to repay $1,000 worth of debt. And those are just a couple of our success stories.
Another one involves Norma, a 3 Men Movers employee who has a few goals in mind, with one of them being saving money. She mentioned that her goals had always seemed far-fetched, but after meeting with Grant, she feels confident she'll achieve them. Norma went on to say, "We've been budgeting certain things that I spend money on, which has been really difficult to do. But now that somebody has put it in my mind, I find myself being a little more conscious before I spend money." She's on track to meeting at least one of her personal goals this year, with more to come after more meetings with Grant.
Of course, our dream manager is just one perk of working for 3 Men Movers! View our current openings to learn more about working with our team in Houston, San Antonio, Dallas or Austin.