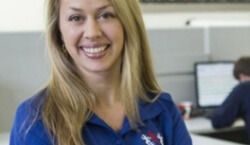 3 Men Movers, President Lorie Clements was selected for the prestigious Houston "40 Under 40" Award in September 2013. The winners were announced on October 1st after deliberations of over 400 entries.
Houston TX, 2013 – The Houston Business Journal, 40 Under 40, is a local tradition that highlights and recognizes young business professionals who are excelling in their industry. The 2013 winners are the 15th class of elite winners. As President of 3 Men Movers, Lorie Clements is leading the company in a strategic geographic expansion across the state of Texas while growing service offerings and focusing on customer service excellence. Incorporating her philanthropic spirit, she has led her team in community involvement and added new environmentally friendly services to better serve customers while respecting the environment.
Ms. Clements holds an MBA from Rice University's, Jones School of Business and a BBA of Finance from the Red McCombs School of Business at the University of Texas at Austin. "When I began the search for a candidate to fill the position of President of 3 Men Movers I asked myself, "If I could recruit anyone for this position, who would it be?" Lorie immediately came to mind. I worked alongside Lorie during the Rice MBA program. The program was filled with amazing intelligent professionals, however, Lorie's work ethic and drive to excel made her stand out among her peers. I consider myself, my company, and my employees lucky to have such an accomplished individual at the helm," says the owner of 3 Men Movers, Jacky Noons.
The Original 3 Men Movers was founded in Houston, TX in 1985 by John Fisher and offers residential and commercial moving, throughout the state of Texas. The well-known company is now owned by his daughter, Jacky Noons. In the past year, the Houston-based company increased their services to San Antonio residents by opening a new portable storage facility to better serve local San Antonio movers. 3 Men Movers provides complete end to end moving and storage solutions such as packing, the sale of moving supplies, self-storage, portable storage units, full-service office and residential moves, and unpacking. Further information regarding this can be found by contacting our Marketing Department at (713)-333-6683 or by email; [email protected]